Cream-colored ponies and crisp apple strudels
Release and Relax and TNT for your poodles,
Topical Aid Kit… the healing it brings,
These are a few of our favorite things! 
We know you're looking for gifts to "wrap in brown paper and tie up with strings"
so may we suggest these Dynamite things?
DISTRIBUTORS! If you like these ideas (or have any of your own!), consider buying 6-packs of your favorite products for the best savings and make your own gift packs. This is just one of the many perks of being a distributor – the ability to buy in volume and save. If you're a retail customer, please be sure to ask your distributor for more information.
Gift Ideas for Humans: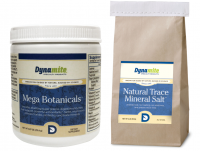 The Human Foundation Pack – DM+ and TriMins are an a combination of the most commonly known vitamins and minerals, plus important trace minerals, amino acids and other factors.
NTM Human Salt

with a small container and

this information

 on why it's so great!

Mega Botanicals are a wonderful way to introduce your loved ones to feeling good, the Dynamite way. Share the gift of health with your loved ones a little easier. 

Be sure to grab a shaker bottle too! 
Gift Ideas for 

Dogs: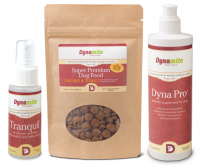 Introduce your neighbor's darling (but stinky) dog to Dynamite Super Premium Dog Food, our awesome digestive support, Dyna-Pro and, a bottle of Tranquil (to help create calm in any stressful situation). It could be the beginning of a beautiful relationship!
Gift Ideas for 

Horses: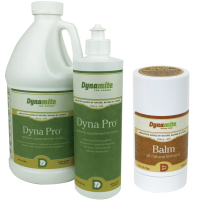 Envisioning a way to introduce Dynamite to your horse's barn mate? Think about giving a bottle of Dyna Pro for improved digestion of ANY feed or supplements, and a Balm Stick for the 1001 things you use it for!
Gift Ideas for

Cats: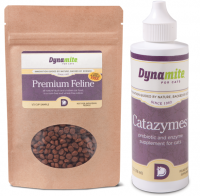 Your Grandma's cat may not be your favorite, but she means the world to her. Give the give of longevity by introducing Dynamite to Snowball with Premium Feline Cat Food and Catazymes while impressing Grandma with your nutritional knowledge.
Gift Ideas for Everyone

:
Topical Aid Kit (Distributors, considering buying these by the case–great for stocking stuffers!)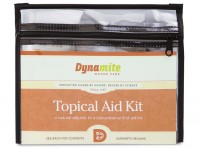 0.5 oz of Trace Minerals Concentrate 

1 dram (1/8 oz) of Solace (colloidal silver) 

1 dram (1/8 oz) of Tea Tree Oil 

4 oz Miracle Clay™ (in a ready-to-use tube) 

1 oz Wound Salve 

4 oz Wound Wash (premixed, ready-to-use bottle) 

1 oz Balm 

2 oz Release