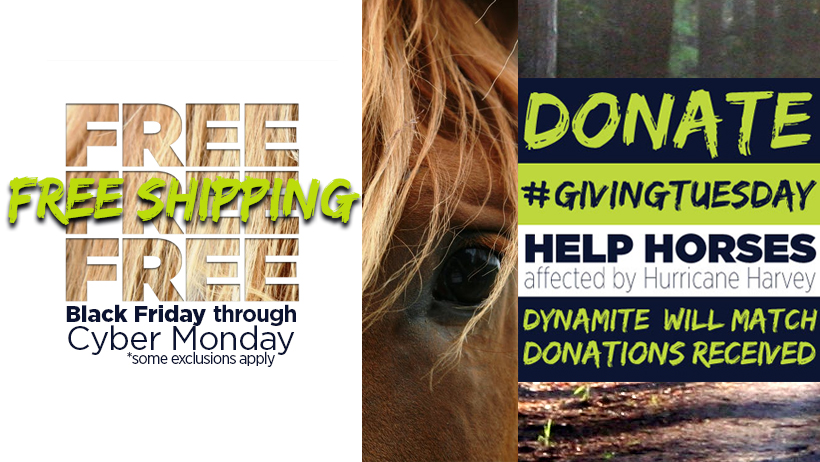 Dynamite has extended FREE SHIPPING* from Black Friday through Cyber Monday
PLUS we've added an opportunity to help horses impacted by Hurricane Harvey.
Dynamite believes in the importance of building health on a solid foundation. In that light, we also believe that the foundation of happiness is generosity. In the busyness of everyday life, people can sometimes take others for granted – friends, family and even our loyal animals who are always by our side giving us as much as they possibly can. With the holidays right around the corner, Dynamite is sharing our gratitude with you –  our loyal distributors and customers. The fact is, we could not do it without you.  We appreciate wholeheartedly the countless hours and words you share with others, improving the lives of all creatures.
Our way of thanking you for caring for all animals, is by offering some amazing savings on your order this weekend.  Plus, we are also extending an opportunity for you to share in the happiness of giving.  This weekend only you will have the opportunity of adding a donation to your order to help horses and other animals effected by Hurricane Harvey.  Dynamite will match donations in an effort to help those who are still recovering from such a massive disaster.  THANK YOU.
 #GivingTuesday – Donate with Dynamite | Learn More: https://dynamitespecialty.com/giving-tuesday-2017/
*EXCLUDES: PGR, Super Premium Dog Food, 35# Cat food (limited 3 bags of 10# Cat Food), and all Tonnage. Ship-to address must be within the contiguous United States.