Dynamite 2018 Conference Speaker Profile:
CARRIE EASTMAN

Carrie brings a very unique mix of experience and training to the wellness business with more than 40 years of experience with bodywork and energy healing. In addition, Carrie has 30 years of hunt seat, dressage and conscious horsemanship experience and has been working professionally on animals and people since 1998.  Her college degree is an Honors B.S. in Wildlife Science (intended to specialize in endangered carnivore restoration) with an undeclared minor in equine studies.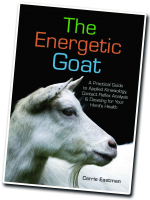 Carrie is the author of The Energetic Goat, and the sequel The Energetic Horse is scheduled for spring 2018 publication by Acres USA. Carrie is now applying her experience and education with endangered carnivores and rare heritage goats to the preservation and restoration of a critically endangered Arabian horse bloodline.
She offers a unique blend of solid technical research and book learning with strong intuition and energy skills, and a willingness to teach and empower others to do the wellness work.
Add in a touch of humor and a bit of animal communication, and you have a unique personalized caring approach to wellness.  Carrie skillfully blends acupressure, cranio sacral, contact reflex points, applied kinesiology, defense physiology, Ttouch and TTEAM, bio energy analysis, energy testing and other modalities with her knowledge of equine nutrition and management.