Long after the flood waters recede, the pains, heartaches, and problems caused by Hurricane Harvey continue to exist. The struggle is still real as many deal with cleanup efforts on their ranches and farms, the struggle to find feed and hay at reasonable prices and unexpected medical problems and costs brought on by the storms. Dynamite has made it a goal this holiday weekend to help the horses affected by Hurricane Harvey. We are asking that as distributors place their orders over the weekend that they consider donating to the cause along with us.
Dynamite will match those donations* to the Hurricane Harvey Horse Response Fund through the organization Habitat For Horses. This established Texas organization is currently at capacity with 360 horses in its care. Jerry Finch, founder of Habitat for Horses, was very pleased to learn about our potential donation and deeply appreciates our support.
To donate, simply purchase the "Donation" item in the online store using the quantity to adjust the amount. THANK YOU.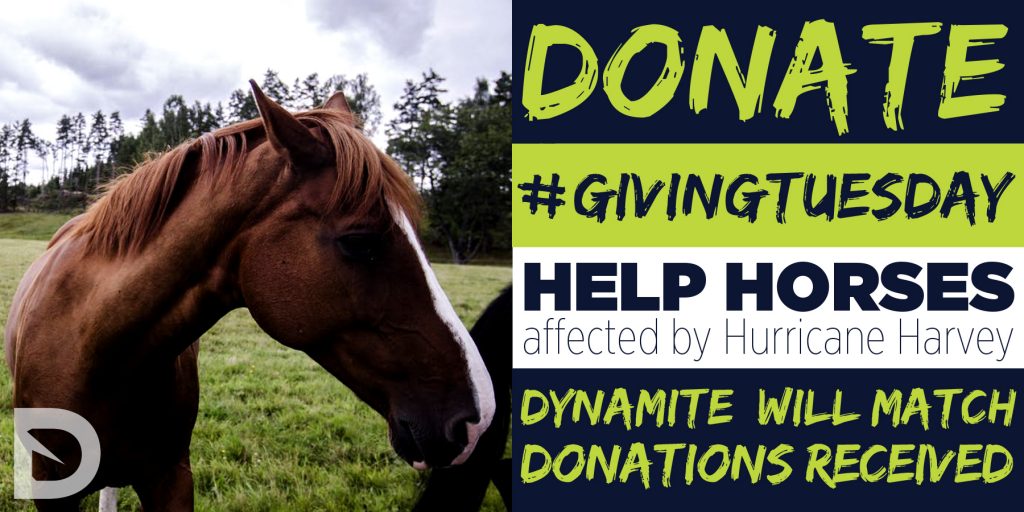 *Dynamite will match donations made through Monday, November 27th, 2017 at 11:59pm (EXTENDED! Tuesday, November 28th, 2017 at 11:59pm) up to $5,000. Donations will not be eligible for a tax deduction. If you'd like to make a donation large enough for a tax deduction, we encourage you to donate directly at https://www.habitatforhorses.org/support/donate. Donations made directly will not be eligible for Dynamite's match. Dynamite is not the recipient non-profit organization and is merely collecting the funds to donate to Habitat For Horses. As a result, Dynamite will not issue a donation receipt.