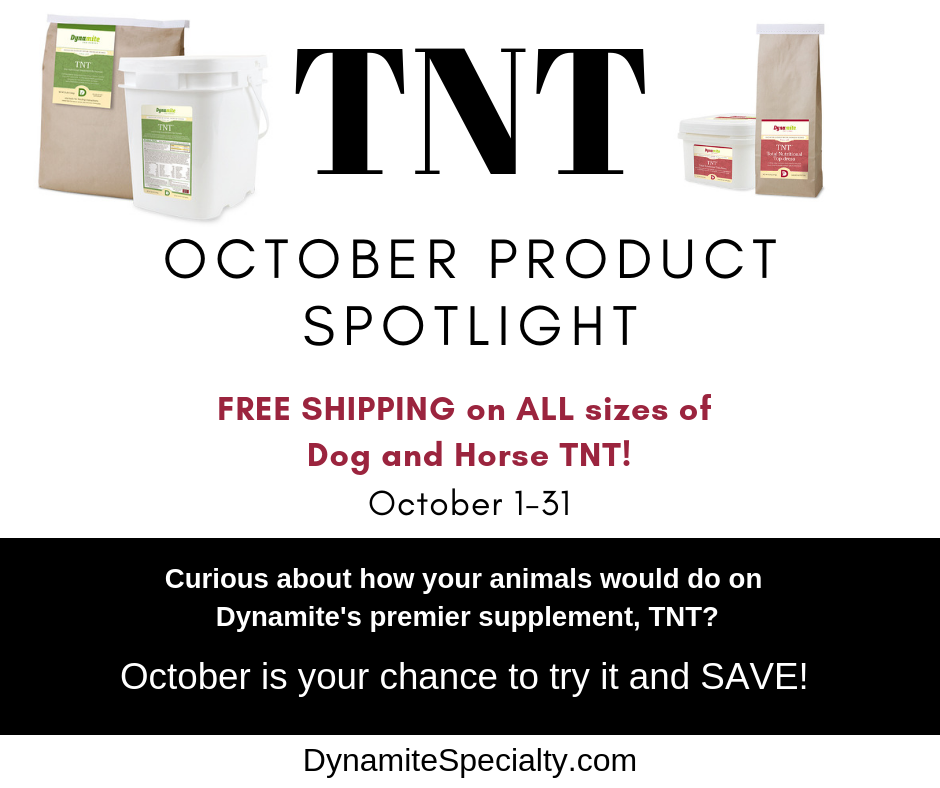 *FREE SHIPPING on all sizes of
Equine & Canine TNT,
including Foundation Packs
October 1-31, 2018!
*Contiguous U.S. only. Discount available to areas outside of applicable area.
For details, please call 800-697-7434.


Why TNT for Horses?
Dynamite's Equine TNT is an unparalleled feed supplement. The formula for this well-rounded product is based on decades of experience in holistic animal nutrition. TNT is an all-in-one pellet, that is easy-to-feed, and is the basis of our Equine Foundational Program that also includes Dyna Pro®, and all four Free Choice Minerals (1 to 1, 2 to 1, Izmine and NTM Salt). Each 1-1/3 cup of TNT contains a synergistic combination of Dynamite, Easy Balance, Izmine, Free & Easy, Excel, and HES.
Why TNT for Dogs?
One of Dynamite's best-selling canine foundation products, Canine TNT (Total Nutritional Top-dress), provides all-in-one nutritional support for optimal canine health. Dogs love the taste and owners rave about the results. See links to several testimonials at the end of this post. Canine TNT is an amazing all-in-one, easy-to-give supplement formulated with a synergistic combination of ingredients, which together, support a healthy digestion system, immune system, coat health, and overall vitality.