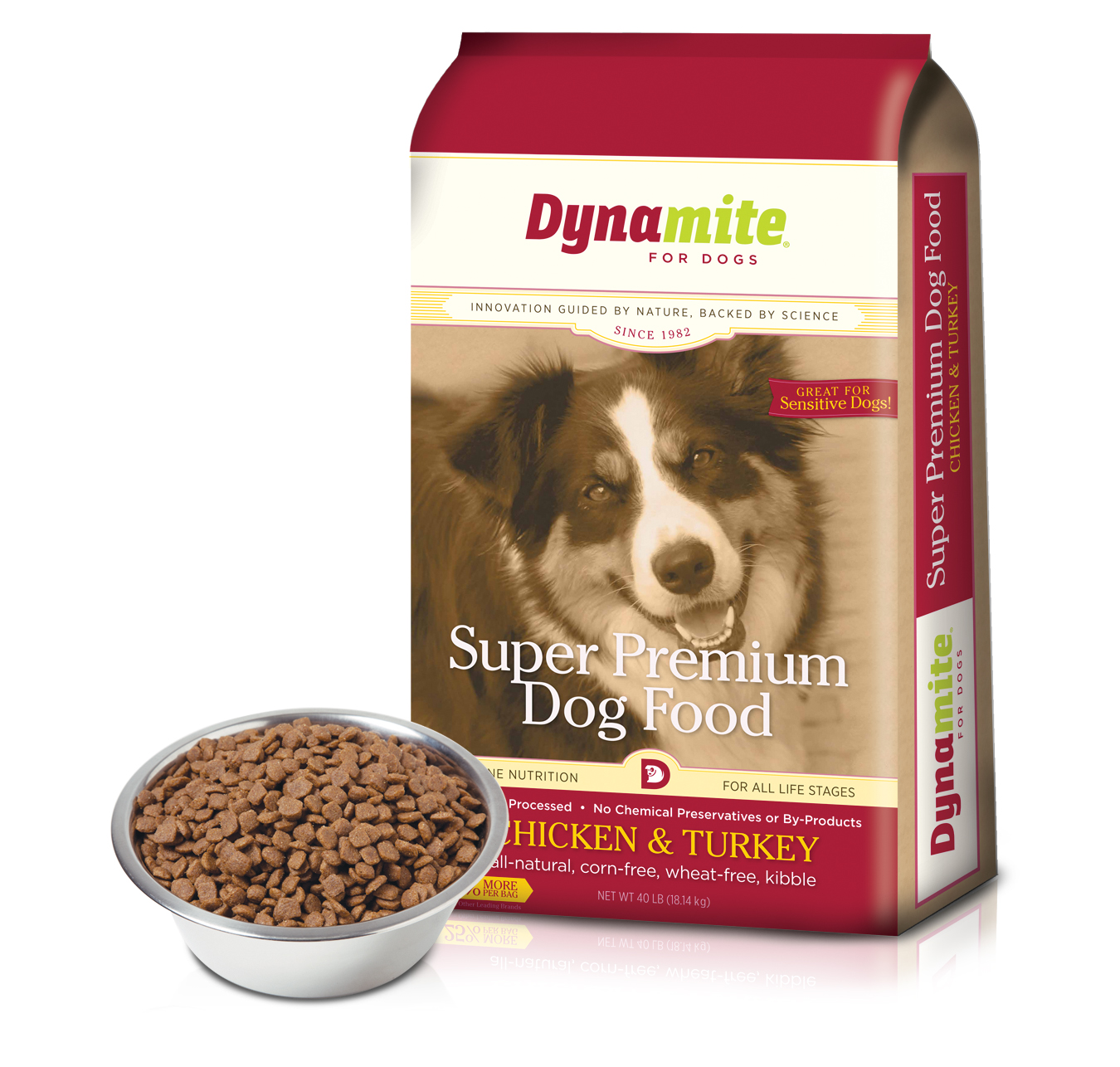 IT'S HERE!
Introducing Dynamite's New and Improved 
Super Premium Chicken and Turkey Dog Food

We are so excited to announce the arrival of our new Super Premium Dog Food! This enormous upgrade to our canine nutrition line is the best low-grain, kibbled dog food on the market today.
This superior formula is free of the common allergens corn and wheat, and is made with fresh hand-trimmed USDA chicken and turkey, as well as fresh low-ash lamb. It also has chicken cartilage that is rich in natural glucosamine. On top of that it contains prebiotics and probiotics to aid digestion.
Our food is made with minimal processing to help preserve the natural goodness of the ingredients. Conventional dog foods will cook ingredients up to 4 times in their manufacturing process. Our small-batch recipe is not baked. Instead, we use state-of-the-art technology that utilizes a low-temperature, high-moisture extrusion. This method assures all starch is cooked and minimal damage occurs to the proteins. To maintain this optimal freshness, our new 40 pound bag features a one-way air valve. 
This is a fantastic diet for dogs in all life stages!  
Thank you for being so patient with us as we worked through the change in our Super Premium Dog Food line. We are confident you will be happy with the change. We see a good future with our new manufacturer. They offer us the quality and flexibility we have been looking for. It was not an easy search but one that had to be done. Take confidence in knowing we wouldn't accept anything but the best to bring in as part of the Dynamite family of products.
"…from the moment Dad and I walked in the door we knew there were excellent, quality foods being made there. Down to the little things, like the tidiness of the ingredient room, we saw that they take the same care in making pet food that we do in our own mill in Meridian. To say we were impressed is a huge understatement. In fact, we immediately came back to our facility and implemented some of their quality-control measures at Dynamite. They aren't trying to be the biggest manufacturer of dog and cat food, they are striving to be the highest-quality–which is exactly what our people in the field want. It's a perfect fit for Dynamite!"       
 Jos Zamzow  COO & son of Dynamite founder Jim Zamzow